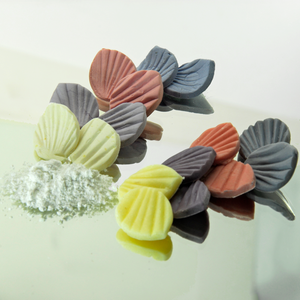 Turns an ivory tone into a more pure white color
on left: modeling chocolate colored with titanium dioxide

NO artificial ingredients or FD&C dyes.  Ever.
There are about 6 teaspoons of powder per .5 oz container.
May be used to whiten a diverse array of products.

Titanium Dioxide is a naturally occurring used in colors for food and cosmetics.
Titanium dioxide is used to whiten many products from toothpaste to coating chocoate. It can be incorporated into almost any product that will blend with a powdered product.

Ingredients
Titanium dioxide, maltodextrin from tapioca. Vegan, gluten-free, no dairy or soy, non-GMO.
Allergens

Milk: NO
Eggs: NO
Peanuts: NO
Tree nuts: NO
Fish :NO
Shellfish: NO
Soy: NO
Wheat: NO
Gluten: NO
Use and Storage
USE: Add to any liquid, melted product, batter or icing. lPowders and pure oils are a good choice because they have very little base, or carrier, providing maximum color with least additives.

STORAGE: Powder colors are great for long shelf life and few additives. They should not spoil as long as they are kept dry and uncontaminated. Some colors may lose strength after a year or longer, but most will stay usable for many years. Keep them in a cool, dry space in air tight containers, away from heat and light. A cabinet or pantry is perfect!