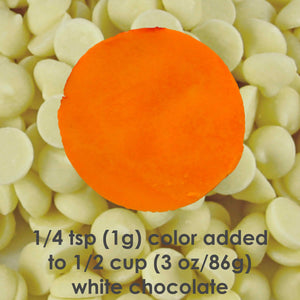 Oil Dispersible Orange Color
Just a drop of this oil creates brilliant color with no speckling.  Also use to turn pink products red.

NO artificial ingredients or FD&C dyes.  Ever.
Paprika oil (oleorosin of paprika) is made by extracting plant fats and pigments from a sweet red pepper.

Comes in a dropper tip container. Add a few drops to color melted cocoa butter, white chocolate, or any product including fats.

Mix with pink to make red. It only takes a few drops!

Oil dispersible colors are for foods like chocolate and coating that have no water content at all. This deep orange colored oil is also great for coloring products that have both fat and water, such as icings and modeling chocolate.

Ingredients
Oleorosin of paprika. Vegan, gluten-free, no dairy or soy, non-GMO.
Allergens

Milk: NO
Eggs: NO
Peanuts: NO
Tree nuts: NO
Fish :NO
Shellfish: NO
Soy: NO
Wheat: NO
Gluten: NO
Use and Storage
USE: Read to use; just add a drop or two.

STORAGE: This oil of paprika can be stored in the pantry or the refrigerator, away from heat and light.