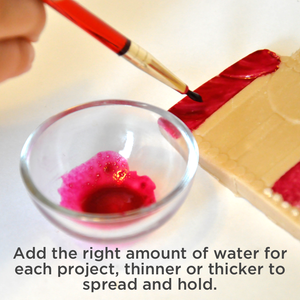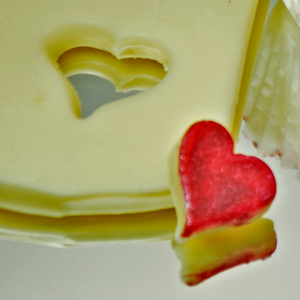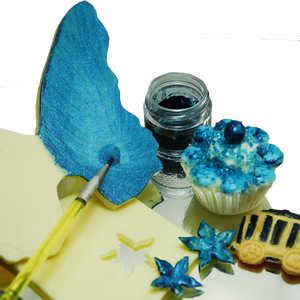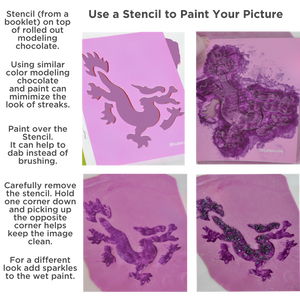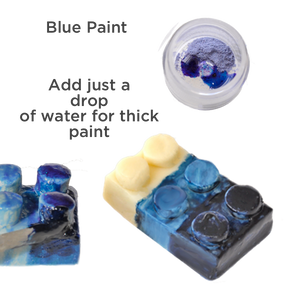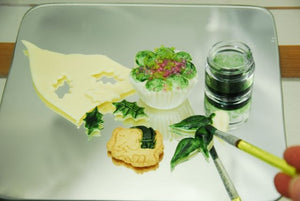 A wonderful, sugar free decorating option
for a cookie painting party!
Use these edible paint powders for decorating cakes, cupcakes, cookies or any firm surface. For an added element, Sprinkle sparkle sugars onto wet paint, or use it as a decorative "glue" to attach modeling chocolate cut outs and decorations.

Choose the shimmer version for an elegant, sparkly sheen.
Add a drop or two of water to the portion to be used to create a thick "watercolor" type vegetable paint. Apply with a clean brush just like using watercolor! Easy for all from the littlest fingers to the seasoned professional.
Paint powders are perfect  for decorating cakes, cupcakes, cookies or any firm surface,
especially useful when a dark color is needed.


May also be used for face painting.
NO artificial ingredients or FD&C dyes.  Ever.
Titanium Dioxide is a naturally occurring oxide.
Titanium dioxide and mica are used in colors for food and cosmetics.
Ingredients
Vegetable color (cabbage juice, beet juice, spinach, turmeric, spirulina, annatto, class a caramel, tapioca starch), organic dried egg white, tapioca starch. Contains eggs (organic egg white). Gluten-free, no dairy or soy, non-GMO.

For an option without eggs, purchase powdered color and use with just enough water to make a paint. Application (painting) may be thinner, or cover less easily than paint with egg white added but it will still work!
Shimmer option ingredients: Mica, titanium dioxide.
Allergens

Milk: NO
Eggs: YES

Peanuts: NO
Tree nuts: NO
Fish :NO
Shellfish: NO
Soy: NO
Wheat: NO
Gluten: NO
Use and Storage
USE: Paints are powder colors plus organic dried egg white. They are great for long shelf life, varied use and flexibility. Moisten with a few drops of neutral liquid like water or egg white and paint the surface of any firm product. Terrific for decorating parties and for sugar free decorating.
Can also be used for face painting.

STORAGE: Paints and powders will not spoil as long as they are kept dry and uncontaminated. Some colors may lose strength after a year or longer, but most will stay usable for many years. Keep them in a cool, dry space in air tight containers, away from heat and light. A cabinet or pantry is perfect!